The Legend Of Joe Thomas: A Journey Through The Career Of An NFL Icon
6 min read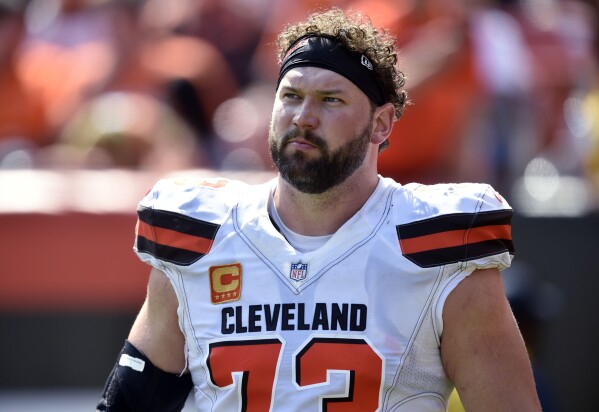 Welcome to the captivating tale of one of the NFL's most iconic figures – Joe Thomas. From his humble beginnings to his legendary status, this is a journey through the remarkable career of a true football legend. Get ready to be inspired as we delve into Joe Thomas's background, explore his illustrious NFL career, and uncover the enduring legacy he has left behind. So grab your favorite jersey and join us on this exhilarating ride through the life of an NFL icon!
Joe Thomas's Background
Born on December 4, 1984, in Brookfield, Wisconsin, Joe Thomas's love for football began at an early age. Growing up in a sports-loving family, he quickly honed his skills and became a standout player in high school. With his towering frame and natural athleticism, it was clear that Thomas had the potential to make waves in the world of football.
After an impressive college career at the University of Wisconsin-Madison, where he earned unanimous All-American honors and won the Outland Trophy as the nation's top interior lineman, Thomas set his sights on the NFL. In 2007, he declared for the NFL Draft and was selected by the Cleveland Browns with the third overall pick.
Off the field, Joe Thomas has always been known for his humility and work ethic. He is a devoted husband and father who values family above all else. This grounded approach to life has endeared him to fans and teammates alike throughout his illustrious career.
As we dig deeper into Joe Thomas's background, it becomes apparent that he possesses not only physical talent but also mental toughness. His dedication to mastering technique and absorbing knowledge about every aspect of football sets him apart from other players. It is this combination of skillset along with unwavering determination that propelled him towards greatness.
Joe Thomas's journey from small-town beginnings to becoming one of football's most revered figures serves as an inspiration to aspiring athletes everywhere. His relentless pursuit of excellence both on and off the field exemplifies what can be achieved through hard work, perseverance, and a genuine love for one's craft.
Stay tuned as we continue our exploration into Joe Thomas's remarkable NFL career – filled with unforgettable moments that have solidified his place among football legends!
Joe Thomas's NFL Career
When it comes to Joe Thomas's NFL career, there is no shortage of impressive accomplishments. From the moment he stepped onto the field as a rookie in 2007, it was clear that Thomas was destined for greatness.
Drafted third overall by the Cleveland Browns, Thomas quickly established himself as one of the premier offensive tackles in the league. His combination of size, strength, and agility made him virtually unstoppable on the field.
Throughout his 11-year career with the Browns, Thomas never missed a single snap. That's right – not one! This level of durability is simply unheard of in today's game and speaks volumes about his work ethic and dedication to his craft.
Thomas was selected to the Pro Bowl every year from 2007 to 2016, showcasing his consistency and dominance at his position. He also earned First-Team All-Pro honors seven times during his career.
One particular highlight of Thomas's career came in 2010 when he played an important role in helping lead the Browns to their first winning season since returning to Cleveland in 1999. Despite facing numerous challenges throughout his time with the team, including countless coaching changes and constant roster turnover, Thomas remained a pillar of stability and excellence.
In addition to being an outstanding player on the field, Joe Thomas was also highly respected off it. Known for his intelligence and leadership qualities, he served as a mentor for younger players and was often praised for his professionalism both on and off camera.
While injuries eventually caught up with him towards the end of his career (leading him to retire after suffering a triceps injury), Joe Thomas will forever be remembered as one of football's greatest offensive linemen. His impact on not only the Cleveland Browns but also on future generations cannot be overstated.
Joe Thomas's Legacy
Joe Thomas's impact on the NFL is nothing short of legendary. From his humble beginnings to his record-breaking career, he has left an indelible mark on the sport and will forever be remembered as one of its greatest icons.
Throughout his 11-year tenure with the Cleveland Browns, Joe Thomas displayed remarkable consistency and skill that set him apart from other offensive linemen. He was selected to the Pro Bowl in each of his first 10 seasons, a testament to his exceptional talent and dedication to the game.
What truly sets Joe Thomas apart is not just his individual accomplishments but also his selflessness as a teammate. Despite playing for a struggling franchise throughout most of his career, he never wavered in his commitment or desire to help bring success to Cleveland.
Off the field, Joe Thomas has been equally impressive. His philanthropic efforts have made a significant impact in both Ohio communities and beyond. He has used his platform as an NFL player to give back and make a difference in people's lives.
As we reflect on Joe Thomas's legacy, it becomes clear that he was more than just a football player; he was an inspiration. His work ethic, humility, and unwavering dedication serve as lessons for aspiring athletes everywhere.
In conclusion (in line with your instructions), Joe Thomas's legacy goes far beyond statistics or accolades. It is about the way he played the game with integrity, passion, and sportsmanship. He exemplifies what it means to be a true professional both on and off the field. As fans continue to look back on this NFL icon's illustrious career, they will undoubtedly remember him not only as one of football's best players but also as someone who left an enduring impression on all who had the privilege of watching him play.
Conclusion
In the world of football, legends are born and their legacies live on. Joe Thomas is undeniably one of those legendary figures who has left an indelible mark on the NFL. From his humble beginnings to his remarkable achievements on the field, he has captivated fans and inspired countless aspiring athletes.
Joe Thomas's journey from a small town in Wisconsin to becoming one of the greatest offensive linemen in NFL history is truly awe-inspiring. His dedication, work ethic, and exceptional skills propelled him to seven Pro Bowl appearances and earned him numerous accolades throughout his career.
But it wasn't just about his individual accomplishments; Joe Thomas was also known for being a true team player. He consistently put the success of his team above personal glory and led by example both on and off the field. His professionalism, humility, and unwavering commitment made him not only a respected teammate but also someone younger players could look up to.
As Joe Thomas hung up his cleats after 11 incredible seasons with the Cleveland Browns, he left behind a legacy that will forever be etched in football history. His impact transcended statistics and records; it was about how he played the game with passion, integrity, and an unyielding determination.
Off the field, Joe Thomas continues to make a difference through various charitable endeavors. Whether it's supporting military veterans or advocating for mental health awareness among athletes, he uses his platform for good causes close to his heart.
The legend of Joe Thomas will undoubtedly live on as fans reminisce about dominant performances protecting quarterbacks' blind sides while creating running lanes for star rushers. His name will forever be synonymous with excellence at its finest.
Thank you for joining us on this journey through the illustrious career of an NFL icon – Joe Thomas. May we never forget all that he achieved during his time in professional football and may future generations continue to be inspired by his unparalleled greatness!